June 1, 2018, 3:06pm
די איינציקע פֿאָטאָגראַפֿיע פֿון מײַן זיידן
The Only Photo Of My Grandfather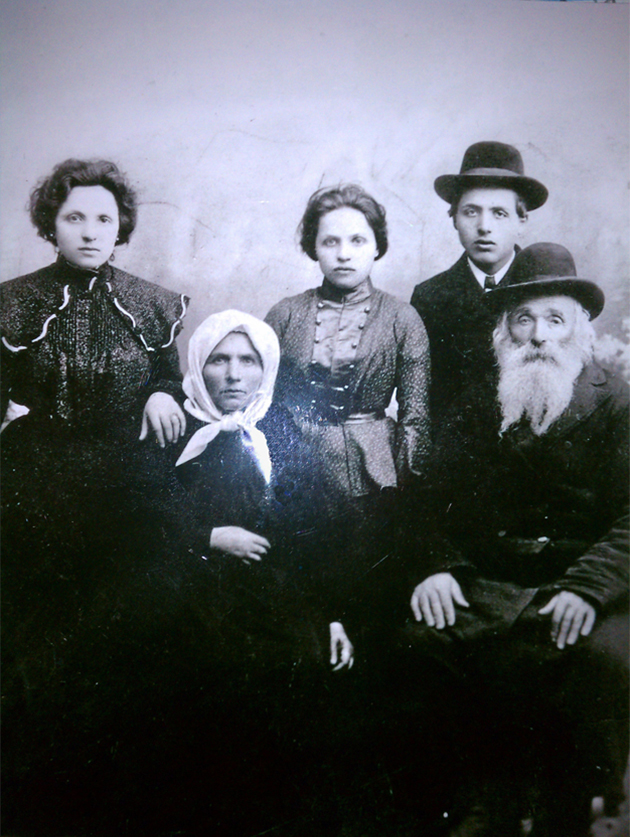 SCROLL DOWN FOR ENGLISH
מיט עטלעכע חדשים צוריק האָבן מיר געבעטן אונדזערע לייענער — סײַ פֿונעם ייִדישן פֿאָרווערטס, סײַ פֿונעם ענגלישן — איר זאָלט אונדז צושיקן אַ פֿאָטאָגראַפֿיע און באַשרײַבונג פֿון אײַער באַליבטסטער ירושה־זאַך. דער אָפּרוף איז געווען אַן ענטוזיאַסטישער. אָנהייבנדיק די ערשטע וואָך אין מײַ, דעם חודש געווידמעט דער ייִדישער אַמעריקאַנער קולטור־ירושה, שטעלן מיר יעדן טאָג אַרויף איינע פֿון די ירושה־מעשׂיות.
דורך די אַלע חפֿצים וועט איר זיך אַ ביסל דערוויסן וועגן די אינטערעסאַנטע משפּחה־געשיכטעס פֿון אונדזערע לייענער, און במילא זיך באַקענען מיט געוויסע אַספּעקטן פֿון דער ייִדישער קולטור־געשיכטע פֿון אַ מער פּערזענלעכן קוקווינקל.
די איינציקע פֿאָטאָגראַפֿיע פֿון מײַן זיידן
פֿון יהודית פֿאָרמאַן, לאָס־אַנדזשעלעס
דאָס איז די איינציקע פֿאָטאָגראַפֿיע פֿון מײַן ליבן זיידן פֿון דער מאַמעס צד, אַבֿרהם אָרגל (ער שטייט אויף רעכטס), אין איינעם מיט זײַנע טאַטע־מאַמע און צוויי פֿון זײַנע שוועסטער. דאָס בילד האָט מען אַראָפּגענומען איידער ער איז געקומען קיין אַמעריקע פֿון גאַליציע.
אויף לינקס שטייט זײַן שוועסטער מנוחה און אין מיטן — זײַן שוועסטער חנה. דאָס בילד איז מיר ספּעציעל טײַער ווײַל איך האָב חנהן קיין מאָל נישט געקענט; זי איז דערהרגעט געוואָרן אינעם חורבן.
מנוחה, וואָס איז געווען אונדזער שכנה אין ניו־דזשערזי, האָבן מיר גערופֿן טאַנטע מיקי. אַזוי ווײַט ווי איך ווייס, זענען מײַנע עלטער באָבע־זיידע שׂרה און שלמה אָרגל (וואָס זיצן דאָ אינעם בילד) קיינמאָל ניט געקומען קיין אַמעריקע.
---
Several months ago we asked you, readers of the Yiddish and English Forward, to send us a photo and description of your favorite heirloom. The response was an enthusiastic one. Beginning the first week of May, Jewish American Heritage Month, we will publish each of these stories daily on our website.
By reading about these family treasures, you will discover some of the fascinating family histories of our readers, as well as their Jewish cultural context from a personal perspective.
If you can read some Yiddish, try reading the Yiddish passage above, which comes with a special feature: every time you click on a word, the English translation appears!
---
The Only Photo Of My Grandfather
by Judith Forman, Los Angeles, CA
This is the only photo I have of my dear maternal grandfather, Abraham Orgel (standing, at right), together with his parents and two of his sisters. The photo was taken before he came to the U.S. from Galicia.
On the left is his sister, Minicha, and in the middle – his sister, Chana. This photo is especially precious to me because I never met Chana since she was murdered in the Holocaust.
Minicha, who lived next door to us in New Jersey, was called Tante Mickey by all of us. As far as I know, my great-grandparents, Sarah and Solomon Orgel (seated here), never came to the U.S.